Open a project portfolio¶
In order to open a project portfolio, do as follows:
Select the menu item File > File > Open project portfolio.

The dialogue window Open appears.

Select the required file.

Click on the button OK.
The dialogue window Project selection for portfolio appears. A list of projects for the project portfolio is shown.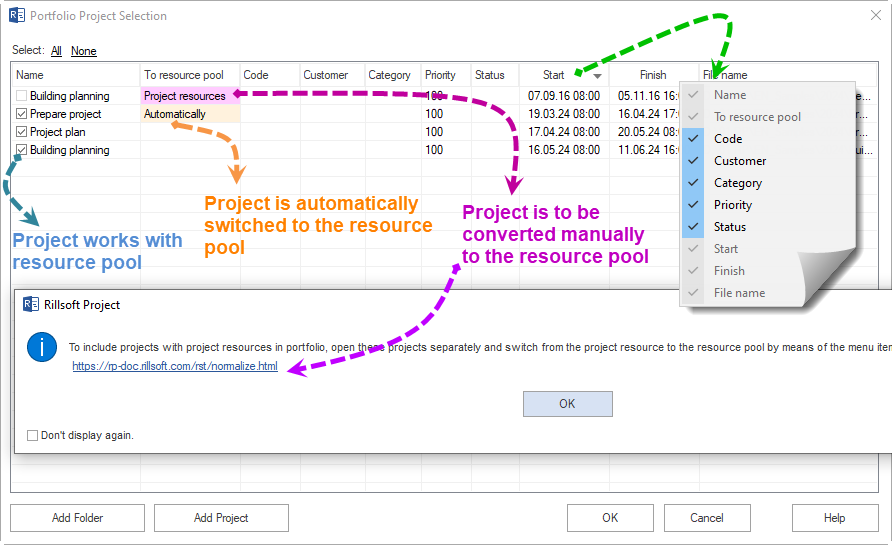 Note: Only projects that share a common resource pool can be included in the project portfolio.
If projects are coloured grey, it indicates a difference between project resources and the resource pool.
Include projects with project resources in the portfolio
Deviating projects being coloured grey can be added to the portfolio as follows:
Automatic replacement of project resources.

The option Replace deviating project resources by resource pool updates the project resources by adding the resource pool at every opening of the portfolio. The view Variance analysis displays the changes in time of the projects graphically.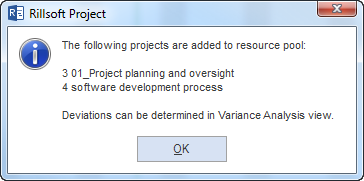 Manual switching of project resource to resource pool.

In order to have the portfolio projects with significant differences in resources, they must be opened separately and you can switch from the project resource to the resource pool by means of the menu item Project > Switch > Resource pool.
Edit portfolio
You can use the following three buttons to do the following:
Select all projects – all projects from the list, that share a common resource pool, are included in the project portfolio. Take out all projects - all projects from the list are taken from the project portfolio out. Add a folder - search a new folder for projects Add a file - add single projects to the list
Select the projects you want to add to the project portfolio. If you want to enter other projects in the list, click on the appropriate button to add either a folder or a file.
Set the order of the project portfolio
The projects shown in the list can be sorted by the following parameters:
Project name

Code

Category

Priority

Status

Start of project

Finish of project

File names
The selected order is then accepted by the project portfolio.
All views from the Gantt chart to break-even chart are available for the project portfolio. In the project portfolio you can run all the activities similar to a conventional project, that is, you can create activities, allocate resources, correct processes or store outputs.